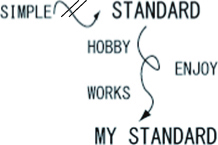 SIMPLE=STANDARDだけではなく、遊びや仕事の中で見つけた自分だけの本物
作り手の気持ちが感じられるぬくもりのある商品
デザイン・クォリティ・バランスを重視した商品
素材が与えてくれる着心地と使い心地の良さ
自分のライフスタイルになじむ商品
2016年2月に設立されたLIFESTYLE GOODSの企画販売を手掛けるグループです
遊び心とトレンドというスパイスをほんの少し加えた製品で、
みんなの日々が幸せで満たされますように!
At Golden Ratio Co.,LTD we believe that quality and beauty should have with balance and design enjoyed by the five senses. We strive to find simple and natural items for the life style that embody our vision.May your days be filled with happiness.         Since 2016.
Follow us on:  face book   /  instagram  /  tweeter  /  pinterest
Official EC Shop:  Golden-Ratio Official EC Shop
Please sign up for our newsletter to be the first to find out about new products and special promotions and events.
If you would like to see our items in person, please send us an email at
contact us:info@golden-ratio.co
Golden Ratio Co., LTD
1-30-2 Higashiizumi Komae City
Tokyo JAPAN
201-0014